Chemship-TMS
Through our Chemship-TMS platform, you can maximize supply chain efficiency, yielding substantial cost-savings and improved performance. The platform is available to you as a cloud-based, full-service transportation management system that can be configured to work with existing enterprise resource planning systems. Chemship-TMS enables you to perform multiple aspects of supply chain planning and control for single and groups of shipments.
Chemship-TMS features include:
Mode Selection
Shipment Optimization
Carrier Selection
Load Tendering
Load Dispatch
Shipment Tracking and Tracing
Exception Management
Appointment Scheduling and Delivery Coordination
Freight Bill Audit and Payment
Claims Administration
Reporting and Analysis
When using Chemship-TMS, you can perform traditional ship and track functions for single shipments, or handle real-time, continuous shipments required for more complex supply chain operations. You will realize real-time, quantifiable benefits using this system, rather than trying to measure theorized benefits after-the-fact.
Optimization, load building and planning, tendering, tracking, freight payment and customized reporting are simple through our easy to use customer-portal. Frequently used addresses and product lists can be pre-loaded, to increase accuracy and efficiency. All of your shipments can be rated, shipped and tracked in one place, and copies of important shipment documents are available for viewing and downloading, whenever necessary.
Ship LTL, truckload, intermodal, air freight or any type of time-sensitive shipment, quickly and easily. For routine shipments that don't require special care, shipment execution and management are simplified for total customer control. For shipments requiring special attention, our transportation professionals are available instantly through Live Chat, email or voice communication, to make sure that every transaction meets or exceeds your expectations.
Warehouse Management System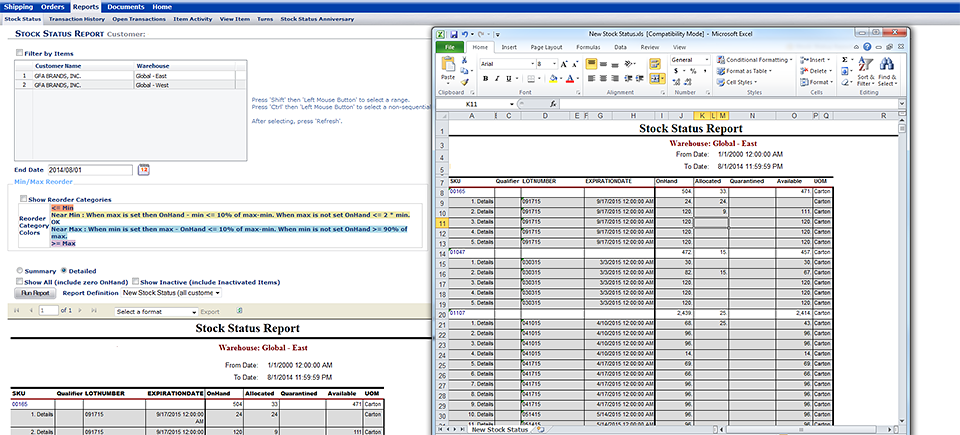 Our cloud-based, real-time warehouse management system offers industry leading technology to manage and control your inventory. Our user-friendly, customized web portal provides total visibility from any web-enabled devise. Powerful Reporting and Status Updates
Instant global inventory visibility (for you and your customers).
Standard and customizable reports- allowing you to view real-time inventory status, shipment status, parcel tracking information - and more.
Automatic email notification of key warehouse events (e.g., receipts, shipments, etc.)
The Right Capabilities to Increase Productivity and Profitability
Full order management with direct EDI support, order imports from Excel, or manual data entry (by warehouse staff or your customers).
Customizable packing slips.
Order allocation management.
Pick management (FIFO, bin-priority, etc.)
Receive, store, pick and report on material by pallet ID number.
Manage inventory by lot number, serial number, and/or expiration date.
Send advance shipment notifications (ASN) electronically to suppliers or retailers.
Mobile barcode scanning for increased accuracy.
Manage full kitting and assembly functions.
Direct FedEx & UPS integration to streamline operations
International dates and time zones, currency, metric dimensions and weight support.
ELECTRONIC DATA INTERCHANGE
Our WMS supports a variety of common EDI file protocols including X12 (940/945), Fixed-position flat file, Tab-delimited, and XML (via FTP or Web Service Call). In addition, when doing EDI on behalf of your trading partners -- we support auxiliary needs including retailer certified UCC-128 labels, retailer 856 shipment notifications and EDI 753 communication with retailers.
MOBILE BARCODE SCANNING
Our mobile barcode scanning functionality is designed to help businesses increase productivity, improve data capture accuracy, and provide our clients with the latest information in real-time. The capability supports all core warehouse functions including:
Receiving
Pallet ID/License Plate Number label printing
Put-away
Moving
Picking
Packing - with carton level detail for EDI transmission
Billing Wizard™ integration
All functions support lot number, serial number, expiration date and/or pallet ID
Mobile Access
Access Chemship-TMS on your smart phone or tablet quickly and easily. We've designed our systems to help you perform all your shipment execution and management functions, using mobile devices. So, you can get quotes, dispatch and track shipments from anywhere.
Live Chat
New to our programs? Not sure of the right mode for your shipment? Or, have questions about creating or running reports? Just click the Chat Live button, and you'll be connected to one of our experienced freight logistics professionals.